KPAR 1420 AM
Lake Country Radio
1620 Weatherford Highway
Granbury, Hood County, Texas 76408
Phone: 817 579-7850
[ Now: KPIR 1420 AM ]
KPAR-AM was the call sign for a four tower directional AM radio station located in Granbury, Hood County, Texas, at latitude 32.46194N and longitude 97.78861W. It operated on frequency 1420 kHz AM. It was originally built by friends George Day and Roy Parker of Brownwood, Texas. The station was originally licensed as KDAY.
KPAR was constructed and engineered by Charles Crosno and Associates of Dallas. The tight antenna array would allow the station to operate at 1000 watts day-time and 500 watts night-time, however the station only had a 500-watt Collins transmitter. The station would switch its' antenna pattern at sunset because it shared the frequency with several other stations; specifically stations in New Braunfels, Bonham, and San Angelo, Texas.
I've always called KPAR "the station that should have never been." Had it not been for Crosno's great work with the tight tower array, the station should NOT have been granted a license for that frequency, for there wasn't any frequencies available. While I engineered there, I discovered the antenna array was near impossible to keep tuned for the correct pattern. Every power line, or metal building, or tower construction nearby would pull the transmitting pattern out of conformity.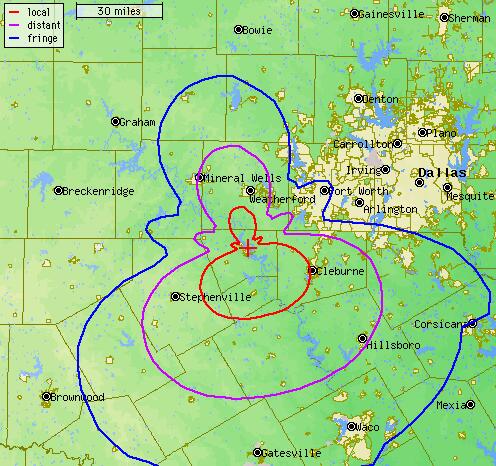 KPAR's 500w Daytime Pattern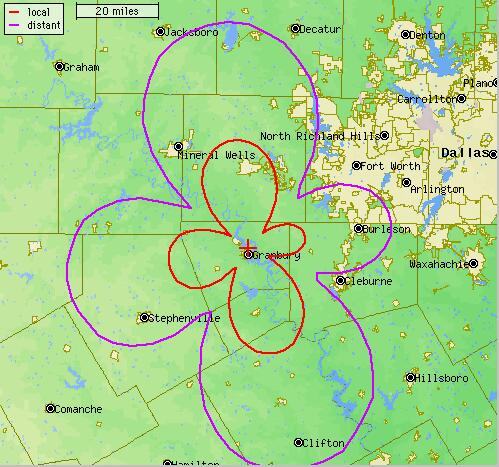 KPAR's 500w Nighttime Pattern
After April 1978, Roy Parker bought co-owner George Day's share of the station and the call sign of KDAY was changed to KPAR, an acronym for Parker's name.
The towers are located on site, about 100 yards west the studio in a large field. The transmitter was an old Collin's tube-type that had a window on the front of the transmitter so you could admire the large glowing tubes. The transmitter was built into in the wall so that you could see, touch, and adjust it from the main studio. The back of the transmitter could be accessed from the adjoining engineering room.
KPAR's studio layout was designed so it would be a showcase. All the studios had large double glass windows on each side. When you entered into the studio, you could see all the way through all the studios to the main control room in the back of the building.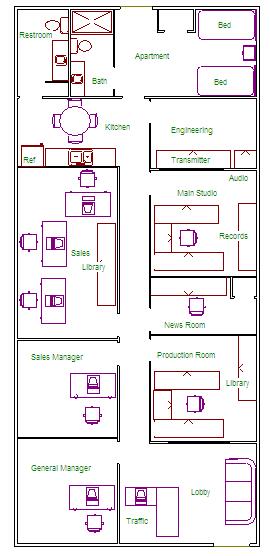 KPAR's image in the early 1980's was "Lake Country Radio," as the city of Granbury is located in an area known as Texas Lake Country and the station is located about a quarter mile south of Lake Granbury on Weatherford Highway (Texas Hwy 51). Granbury is located in Hood County Texas, about 37 miles south-south-west of Fort Worth.
The estimated population of Granbury in July 2002 was 6,162 (a 6.6% change every four years). In year 2000 there were 2,600 (45.5%) males and 3,118 (54.5%) females. The elevation is 722 feet above sea level and the land area is about 5.5 square miles. Median resident age: 41.7 years. Median household income: $35,952 (year 2000). Median house value: $83,600 (year 2000).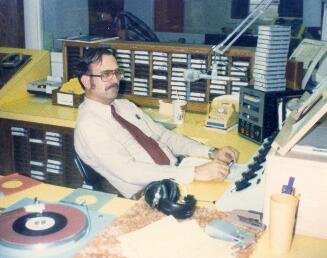 KPAR News Director Gary Bruce (1982)
Toby Arnold & Associates created the original jingles, liners, openers, and image beds for KPAR, which were geared around the "Lake Country Radio" theme as well as their steep country music format. Here's a few samples of the TA&A jingles in MP3 format:
1. KPAR Legal ID :15 (250k)
2. KPAR Here How Good Our Country Sounds :16 (250k)
3. Lake Country Radio... KPAR (2 cuts) :30 (500k)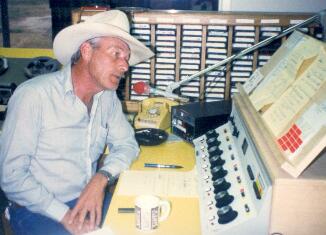 KPAR Sports/Rodeo Announcer Dan Coates (1982)
Roy Parker tried for years to get a Class "C" FM permit for Granbury, but various groups fought legally for the same frequency, the only one available to the Fort Worth/Dallas market. Among the applications was a company using a minority female as the primary applicant specifically for the purpose of using the minority anti-discrimination influence to obtain the construction permit. The application took over a dozen years to be granted. The permit was eventually granted to the group that held out the longest and spent the most money with lawyers. Who says "public interest" rules? Or maybe it does: "He who has the gold, makes the rules." I always hoped the "FCC doesn't care who you are..." or "You mean more work for them..." or "They've heard your story before..." factors would win out. <GRIN>.
Two other interesting side-bar notes: During the construction of the original station, a very expensive, very thick, spool of copper coax that would run 100 years from the studio transmitter to the towers was stolen almost as soon as it arrived on the truck. I'm not sure if the crime was ever solved.
Also, while I was engineering at KPAR-AM, the station towers were struck by lightning at least two-to-three times a year over the three year period of my employment there. Who says lightning never strikes the same place twice!?!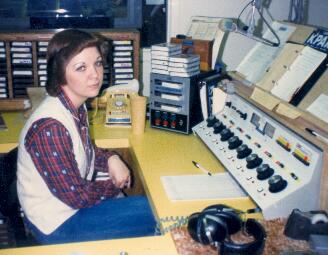 KPAR afternoon announcer Nancy Johnson
I was hired by KPAR in about 1981 as Chief Engineer and Disc Jockey. KPAR at that time was managed by Katy Hill.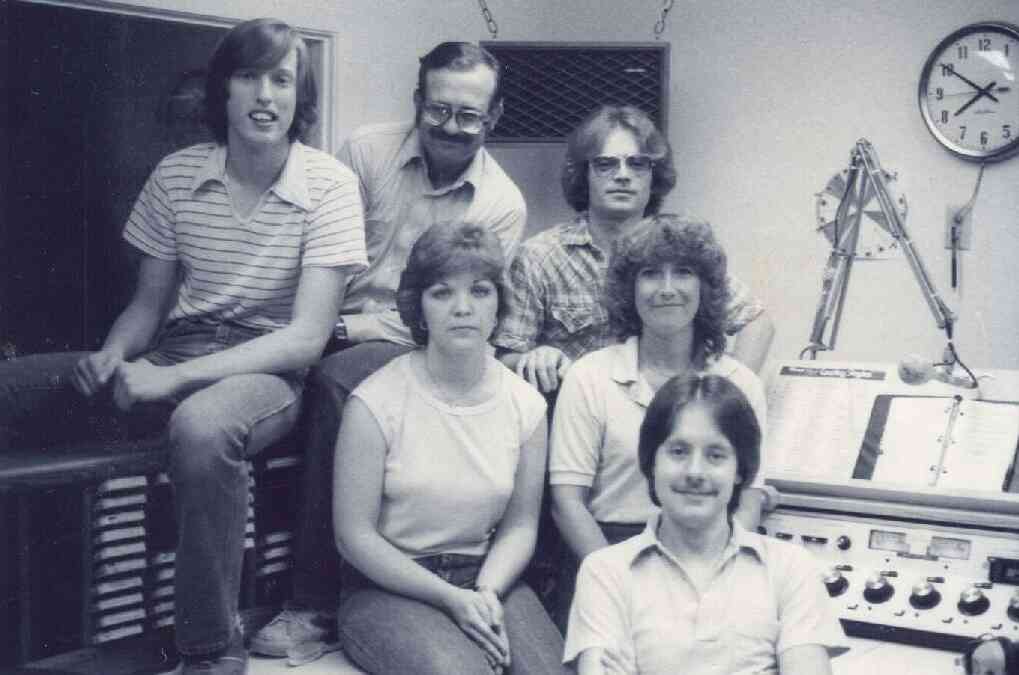 KPAR Jocks in 1982: Rear: John Stace, Gary Bruce, Alan Freeman
Middle: Nancy Johnson and Jan Brown
Front: Rick Boisever
Members of the early 1980's KPAR Team:
General Manager / Sales / Announcer: Katy Hill
Sales Director: Janelle Turner
Sales and Production: Pam Thomas (neice to Janelle, I think)
Secretary / Traffic Director: Cherry Merriman
Music Director / Announcer: Debby Black
Music Director / Announcer: Pam Day (aka. Pam Steele)
News Director / Sports Announcer: Gary Bruce
Chief Engineer / Program Director / Announcer: Alan Freeman
Other announcers: Kelly Harris, Jon Stace, Tim Johnson (aka. Tim Milligan), Nancy Johnson (not related to Tim), Jan Browne, and Rich Boisevere.
Ocassionally, local rancher Dan Coates would announce ballgames or rodeos with news and sports director Gary Bruce. Later Hal Brooks, a Fort Worth radio legend, joined our sales team and was promoted to General Manager briefly.
Other KPAR Employees before 1980:
Lou Kordeck, Bill Monk, Katy Hill, Steve Dodd, Debby Black, Tank Sherman, Sandy Lee, David Guthrie, PJ Cook, Grossy Molar, Dale Jimeson, George Day, Linda Luhaun, Mike Chessen, and Doite Copler.
When I worked there, the station had an old Collins tube-type transmitter. In the back of the studio building there was a kitchen and a small apartment with two beds and a bathroom with shower (as shown in the blueprint above). The apartment was used by Roy Parker when he came into town ocassionally and sometimes by an announcer who might have had to sign-off late and work the early morning shift the next day. (And on one or two ocassions by DJ's when they got into the dog house with their significant others! No, I don't think I ever slept there once! <GRIN>)
KPAR played country music most of it's operational life. It had several interesting locally produced shows however. The KPAR Hotline was a call in show that aired daily at about 10 am. People who had items for sale would call in, describe and price them, and give a phone number where they could be reached if someone wished to purchase them.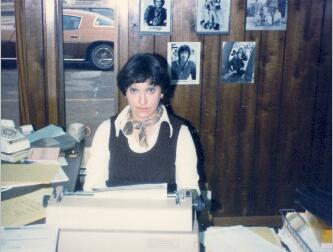 KPAR Traffic/Operations Director Cherry Merriman
Pam Day was later music director and together she and I produced the KPAR America's Country Countdown on Saturdays; a locally produced show of the top 20 country hits of the week. At one point I became morning man and added the "Dreaded Morning Story", which were 3 minute comedy bits done by retired 82 year old Nacagdoches Attorney Bob Murphy.
Our team mentioned above had a lot of fun. We were involved in the Granbury, Acton, Glenrose, and Pecan Plantation Community often, as we tried to do as many remotes as possible. Gary Bruce announced most of the Granbury High School sports games.
In 1982, I was responsible to obtaining a FCC permit and license for installing a 'Marty' wireless studio link that would allow us to do remote broadcast without the aid of phone lines. This remote remote studio link did not work as well as we had hoped due to the local torraine and the location of the antenna on one of the short 150 foot towers.
Pam and I were also instrumental in convincing the station to purchase a phone line and answering system that we dubbed the "KPAR News Number." You could dial 573-NEWS for the latest news, weather, and sports scores. This idea was used to leverage sponsors for the news and sports.
While working there we had the honor of meeting country legends T G Sheppard, Barbara Mandrell, Reba McIntire, and the band Dr. Hook. Most of those celebrities did show or station liners for us.
In about 1983 the station was sold to Gary Luker, a local politician and then owner of Hood County Department and the Granbury Water Company. I started doing computer work for those companies to automate the billing. I evenually left the Granbury area for DJ and computer positions in the Dallas/Fort Worth metroplex.
Pam Day moved to KKQV 103 in Wichita Falls, Texas for about a year, then on to KAFM 92.5 in Dallas as Pam Steele. The station later changed its call sign to KZPS (The Power Station). Pam has worked there for many years. She and her husband John Rody now do agency production work, and they both are announcers as well. Pam and John are both fantastic announcers and voice talent. Over the years Pam has done great agency work for the local TV and radio stations of Dallas and Fort Worth.
Incidentally, Gary Bruce and I started Granbury's first check verification service called "Check Guard". It only survived for about a year, as "CheckSystems" ultimately came in with electronics and services that out did ours' at the time.
According to FCC records, in 1997 the station was licensed to James Parr and Frances Parr. Gary Barton, an announcer at KBEC who used to work at KPAR in the mid-90s said that the Parrs bought the station in about 1987. He said that in 1999 that both James and his wife passed away a day apart from each other and that the estate fell to their granddaughter.
In September of 2000 it appears the station was involutarily reassigned to C. Winsett Reddoch, Independent Executor. Later records show it was 'volutarily' reassigned to Reddoch.
Robert (Bob) Elliot, current co-owner of the station (under call sign KPIR), said Winsett Reddoch was a good friend of the Parr's and was executor of the estate. After their death he was granted the license.
Reddoch worked on a deal with the then owner and licensee of KCUB Stephenville to buy the station. They found the antenna array was out of pattern and notified the commission, probably to find out what the actual pattern should be. The FCC ordered the station off-the-air until corrected. The purposed buyer then backed out of the deal and the station went dark.
The station was dark for about ten months, said Elliot. Reddoch finally found a buyer. A group of three businessmen, Charlie Strickland, Robert Ellion, and Bob Haschke purchased the station and put the antenna array back into specs.
KPIR AM 1420
On June 6, 2002 the FCC listed the station as being owned by BBC Broadcasting and the FCC granted KPAR a call sign change to KPIR. By July of 2002 records show a volutary reassignment of the station to Pirate Broadcasters Inc. (thus the KPIR acronym). The station went back on the air in July of 2002.
The station now operates as KPIR 1420 AM. The format is country music. They have a nice web site at www.kpir.com. They have a VIRTUAL TOUR of the studios as they exist today.
The staff in November 2004 was:
Robert Elliot, General Manager
Tracie Harper, Sales Manager
Sylvia Dalton, Account Executive
Shayne Hollinger, News & Sport Director, Syndicated Radio Star
Sue Haschke, Traffic Manager and Station Mother
Byron Anderson, Production Coordinator and host of The Ride
Scott Randolph, Host of the Sunday Morning Gospel Show
Toby Lindsey, Intern
I have some other photos of older station personel that I will post soon.