WMTS FM 96.3 / WMTS 810 AM
Double Barrel Radio
Play The Oak Ridge Boys in a charity benefit softball
Wednesday, September 6th, 1978
Murfreesboro, Rutherford County, Tennessee

To play a Stereo 96 Jingle click here
...then wait a few seconds for it to load; then click OPEN!
WMTS 96.3 FM and WMTS 810 AM Murfreesboro Tennessee was an AM/FM combo radio station, that was originally build by a Mr. Montlow, Virgil Trimm, and A D Smith Jr., thus the station call sign was an acromyn for the originator's surname initials. Myth has it that it was named 'MTS' because the it was located near the exact geographical center of Tennessee; located in Murfreesboro, along the banks of the Stones River. Thus Middle (of) Tennessee State. That is simply not true. (**See remarks at the end of the page please about Stones River).
That station was sold to Tom Perryman before 1976. His silent partner was Mary Reeves, the wife of the late great country singer Jim Reeves. The AM station on frequency 810, was a 5000-watt day-timer (signed on about dawn and off at sunset) and played country music. It had to operate in the daytime only due to adjacent channel restrictions. The AM was quite popular among truckers and country music lovers.
The FM was a class "c" stereo 20,000 watt station, in a time when stereo was not necessarily the norm. During the day the FM signed on at about an hour before dawn and played mellow album rock during the day, then switched to Big Band music at 7:00 PM. It signed off at midnight. Scooby Bruce Harper was the main ..and only.. DJ for the Big Band sound of the station. He knew the sounds of that era well. He was once a Big Band figure himself.
Many years after Jim Reeves passed away, Tom and Mary sold the station combo to radio sportscaster veteran Monte Hale, who in about 1977 formed Hale Broadcasting, Inc. At that time the station combo was known as "Double Barrel Radio." The FM's slogan was "Stereo 96" and the AM's was "Radio 81" and "81 MTS". The morning DJ was Ron, but for the life of me, I can't remember his last name. He was part of the wood work; there in 1976 and there when I left in 1980.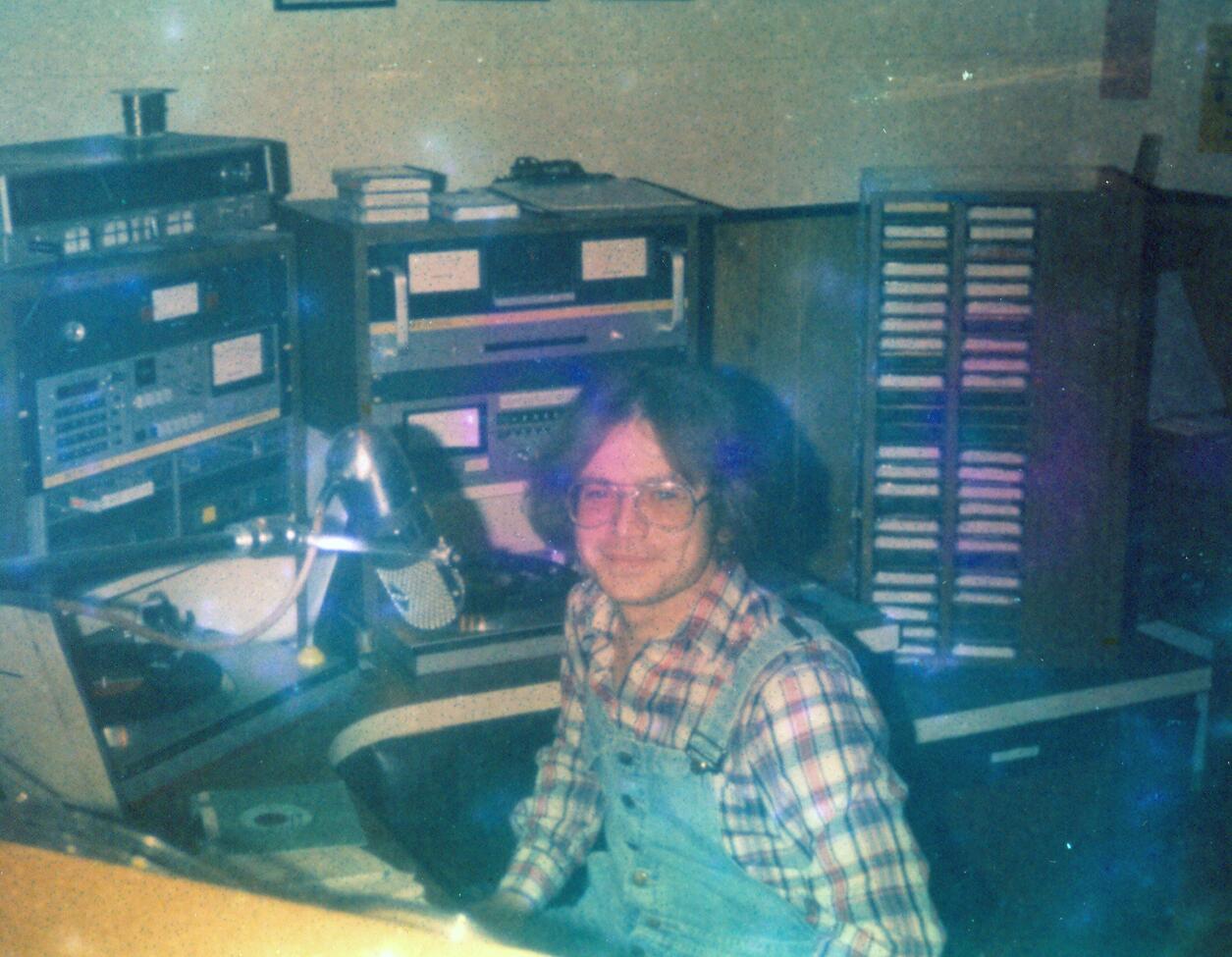 Alan Freeman (that's me!) in the WMTS-FM 96.3 Mhz studio in 1979,
when it was located at 915 NW Broad Street, Murfreesboro, Tennessee
Other Photos (click to view):
Jim Gilmore (engineer) - Martin Horn (dj)
Steve Miller (news) - Neal Lancaster (sales)
Bill A Jones (dj) Nick (friend)
Scooby retired shorty after that and Monte started playing more pop and album rock on the FM and carrying MTSU and Nashville Sounds sports. The FM received a power increase to 100,000 watts to move the signal into the Nashville market in about 1979. The studios were moved from NE Broad Street to Memorial Drive. Jim B. Gilmore was the chief engineer for WMTS. He brought the station up to contemporary standards. Jim also engineered for nearby WGNS-AM 1450 and the MTSU station WMOT-FM. For a while he worked for Harris Broadcasting and designed consoles and broadcast electronics. Jim was responsible to the original WMOT-FM installation at MTSU. (I helped pull some of the cables... but that doesn't count for much). In about 1980 the station relocated it's signal (transmitter and antenna) nearer to the Nashville market.
Monte had worked at another Murfreesboro radio station WGNS-AM as a sportscaster and was then known as the official "Voice of the MTSU Blue Raiders". He had an incredible talent with announcing baseball, basketball, and football. I consider Monte to be a mentor of mine, as he gave me advice that futhered my career in broadcasting. He carried his professionalism over to WMTS, and made the stations so successful they were able to compete with the nearby Nashville radio market.
Between 1976 and 1980 while I was attending Middle Tennessee State University, I worked as an announcer at WMTS-FM. During that period we played several benefit softball games for charities, and on two occasions we were teamed against the legendary country & gospel band, The Oak Ridge Boys. A picture below was taken at one of those games. (A fundraiser for the "Eric Rose Fund", a young man injured in a mini-bike accident). They won both games, of course! Their manager and Monte were great pitchers, but the Oak Ridge Boys were far better players than our crew.
Sadly, Monte Hale passed away in about 1980 of cancer. His family has since sold the stations. Before he passed away, a street in Murfreesboro was dedicated in his name for his contribution to the community.
The AM and FM combo were split up. First the FM changed all signs to WKOS-FM and the AM still held the call sign of WMTS. The FM call sign was donated and transferred to Middle Tennessee State University for a station that now operates at 88.3 in about 1995. [WMTS-FM 88.3 Link] .The FM was renamed Oldies WRMX-FM 96.3 and is now licensed out to the Nashville market. MTSU also operates WMOT-FM 89.5.
John McCreery formerly of WGNS AM 1450 bought WMTS-AM, and kept it until the early nineties. John also put Murfreesboro's first UHF TV station on the air, co-located with WMTS AM's studios. John sold the station to a Judge in Murfreesboro, and the station became WAPB-AM 810. It sold again in about 1999, and is Hispanic in programming. John McCreery passed away last year (2003).
WMTS & The Oak Ridge Boys Team Up
First row, kneeling: Mark Ellerbee, Duane Allen, Joe Bonsall, Mickey Baker, Alan Freeman, Monte Hale.
Standing, left to right: Bill Jones, William Lee Golden, Unknown, Unknown little girl, Garland Craft, Unknown, Jon Mir, Jim Fogelsong, Skip Mitchell, Don Breland, Ron ?, Richard Sterban, Dan Jaynes, Unknown, Roy Mecke (leaning), Unknown, Greg Gordon (shades), Greg Jaeger. [Black = ORB's staff/ Red=WMTS staff].
Some of the unknowns are friends and/or family of the Oak Ridge Boys, and some of them are announcers and friends and/or family from WMTS-AM/FM. It has been so long that I can no longer pin names to most of the DJ's. If you recognize any of them, please feel free to e-mail me. Special thanks to Kathy H. at the Oak Ridge Boys office for helping with some of the names. Thanks also to Garland Craft (ORB pianist) for help in identifying a few also. Special thanks to the Oak Ridge Boys for their charitable, musical, and moral contributions to us all. They have been a positive role model for all fellow musicians and Christians.
Jim Gilmore also helped with remembering some of these names. Jim now works for Viacom which is affiliated with MTV, CMT, Nick, Nick-At-Night, and a number of other satellite stations. Jim also owns Audio Productions, an all digital recording studio in Nashville that does agency spots nationwide.
Bill Jones also helped with my memory of a few names as well. Bill has a satellite radio show and a variety of other talents. You can visit his site at www.billajones.com .
For more details and photos about Monte Hale and the sale of WMTS-AM/FM to John McCreery click here.
----------------------------- Coincidently ------------------------------
** Murfreesboro and the Stones River are well known because of the great Battle of Stones River, one of the bloodiest battles of the Civil War between December 26, 1862- January 3, 1863, under Union Commander William S. Rosecrans and Confederate Commander General Braxton Bragg. There were over 23,000 casualties and over 1,800 dead. My 2nd great-grandfather James Henry Cole, then a grocier and farmer, was conscripted by the Union Army in the Civil War, to care for the wounded in a make-shift hospital at the old Carnation Milk plant near West Main Street & Bridge Street in Murfreesboro, during the war. This area is near the current Cannonsburg historical park. The Stones River National Battlefield has many, many, graves of Civil War soldiers and is something to see should you every be near Nashville and Murfreesboro.
Murfreesboro Tennessee Radio Stations:
WMOT-FM 89.5
WMTS-FM 88.3
WRMX-FM 96.3
WAPB-AM 810
WGNS-AM 1450